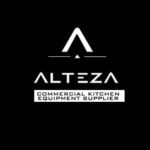 Receive instant rebates on energy-efficient foodservice appliances.
Fill out as many Rebate Forms for as many of your locations that may be eligible. Click the button below to sign up!
Commercial Foodservice Equipment Rebates
Kitchen equipment can make up nearly 75% of your business' energy usage. Use the available rebates to save on ENERGY STAR® and Food Service Technology Center certified equipment that can lower your bill and save energy. Receive rebates instantly with Alteza Restaurant Supply today.
Receive up to $1,500 in instant rebates on each qualifying deep fryer. Some Energy Star rated deep fryer models cost at least $1,500 each. An assortment of instant rebates are at your finger tips hassle free. Reach out to us today and find out how much each type of equipment qualifies for before you buy.
Puget Sound Energy serves 10 counties in Western Washington.
Only Participating Dealers Like Alteza Restaurant Supply can offer these Instant Rebates! – it's easy to enroll and gives you a competitive advantage over non-participating dealers.

To enroll, click on the PSE Instant Rebate Button below.
For expedited service, sign-up for an Alteza Restaurant Supply Account!